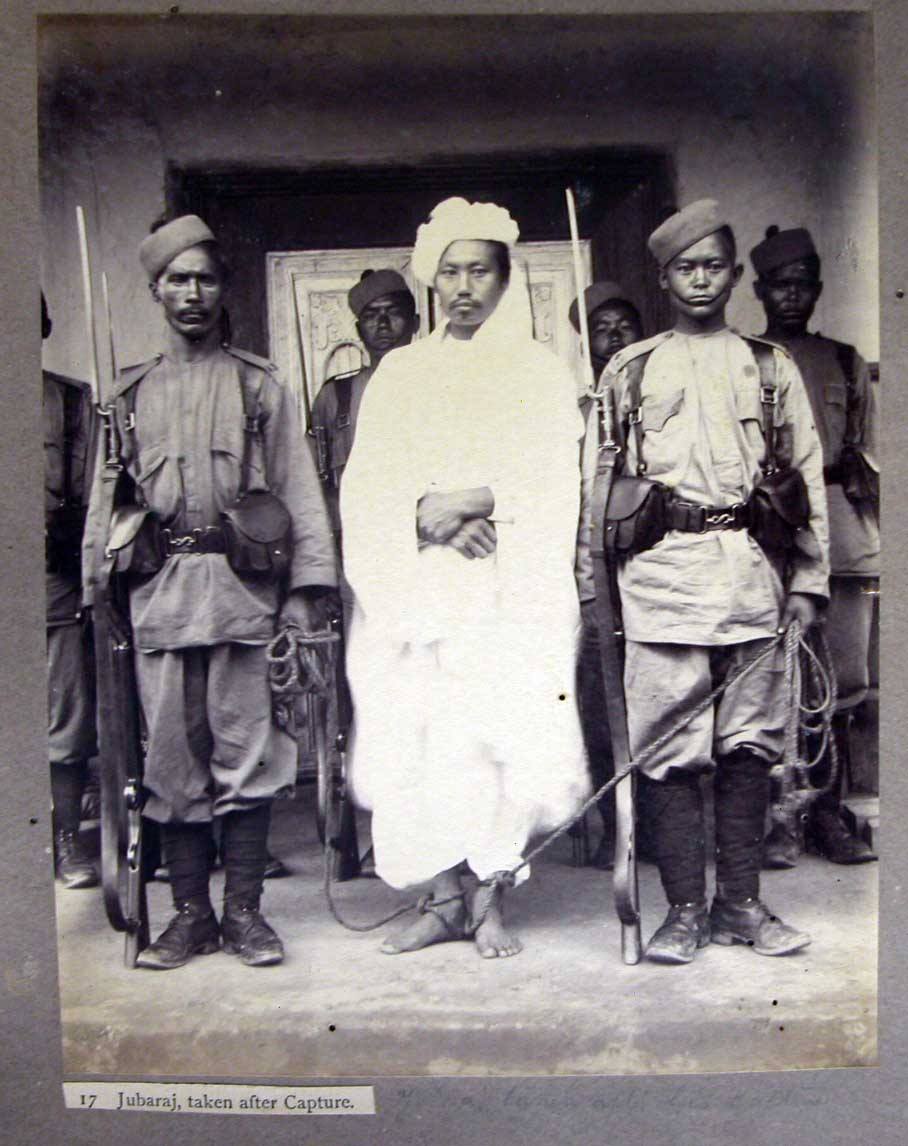 event_note History Timeline
1890 - 1891
Manipur under British
room India
Yuwaraj Tikendrajit Singh of Manipur was arrested by the British following the Anglo-Manipuri War of 1891.
Tikendrajit Singh was Senapati (Burmese Thenapati) or army chief and overall strongman in Manipur from 1890 until his overthrow by the British a year later.
Manipur (Kathe or Cassay in Burmese) had been an independent kingdom with a royal family which came to power in the 1690s. In 1725 and again in 1749 the Manipuris under their Hindu king Garib Newaz overran much of today's Sagaing Region, contributing to the fall of the Toungoo dynasty in 1752.
The Manipuri or Meithei language is a Tibeto-Burman language related (most likely) to Kuki-Chin and Naga.
The Burmese king Bagyidaw conquered Manipur in 1819 leading to what the Manipuris call the "Seven Years of Devastation" (chahi taret khuntakpa in Manipuri).
Thousands of Manipuri captives were then settled in the Ava-Amarapura area, where their descendants remain to this day. Hundreds formed the elite Cassay Horse regiment in the Konbaung army. Manipur brahmins (ponna) promoted Hindu rituals and ideas of kingship at the royal court.
Under the Treaty of Yandabo (1826) which ended the First Anglo-Burmese War, the Burmese agreed to "renounce all claims" and end all "future interference" in Manipur.
From 1826 the British saw Manipur as a protectorate. A new king (Gambir Singh) was placed on the throne. Over the next 70 years, the British sway over Manipur gradually increased. A (British) Political Agent was installed at the capital Imphal, reporting directly to the Chief Commissioner of Assam.
In 1891 the British intervened in the royal succession. The Manipuris resisted. The leader of the resistance to British interference was the king's brother the prince Tikendrajit Singh.
The Chief Commissioner James Wallace Quinton was dispatched. On 22 March 1891 the Manipuris speared to death the Political Agent Frank St Clair Grimwood and then beheaded and dismembered Mr Quinton and three other British officers. 
The British responded in force from Silchar, Kohima, and Tamu (in Burma). This was the "Anglo-Manipuri War" of 1891. It was the single greatest revolt against British rule in India following the 1857 Mutiny. 
Within a month the war ended with British victory. The Maharaja Kulachandra Singh was transported for life to the Andaman Islands where he died a prisoner in 1934. Prince Tikendrajit and others were publicly hanged at Imphal . A new king, the 5 year old Churachandra Singh, was placed on the throne. 
Manipur was in this way forced to remain a Princely State within the British Indian Empire.
The photo identifies Tikendrajit Singh as "Jubaraj" (Yuwaraza in Burmese or 'prince'), as this was his title prior to 1891.
Explore more in Myanmar's Neighbours Past and Present