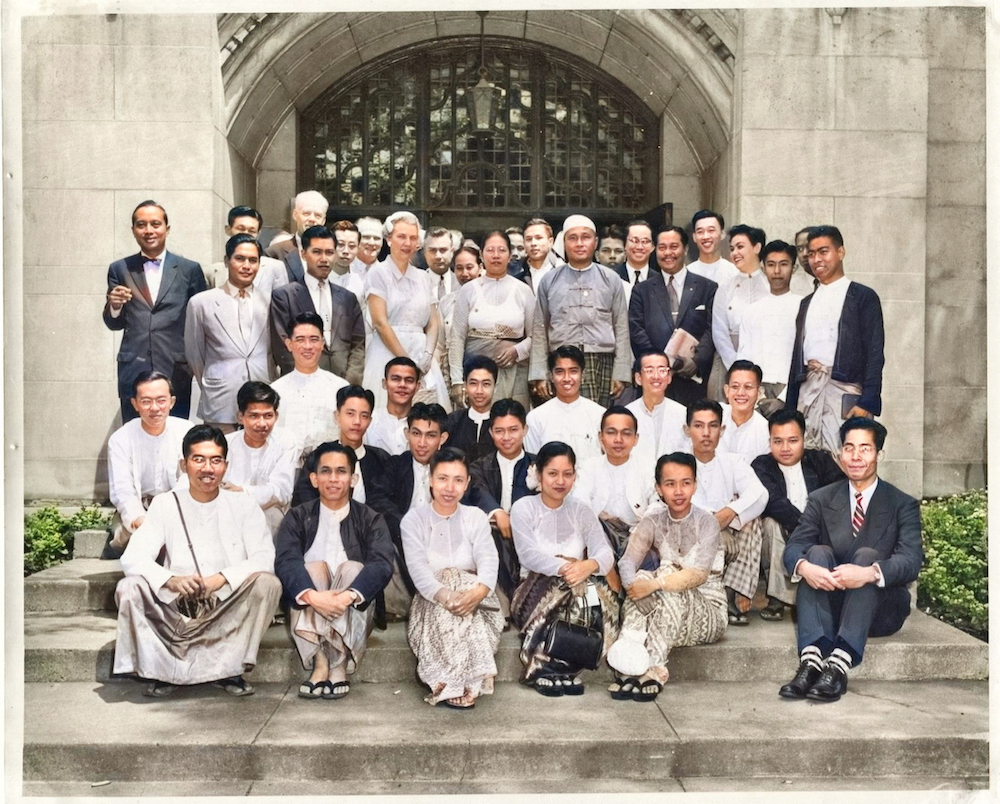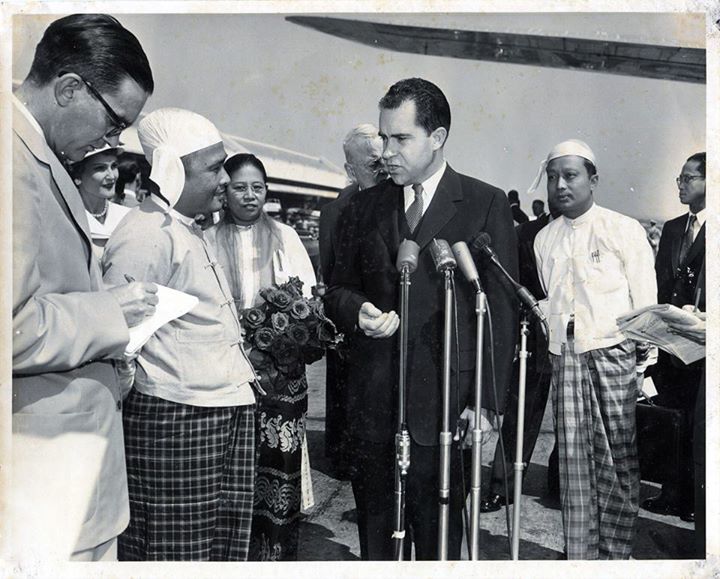 Vice President Richard Nixon welcoming U Nu to Washington (Patricia Nixon, Daw Mya Yi, Secretary of State John Foster Dulles, and U Thant in the background).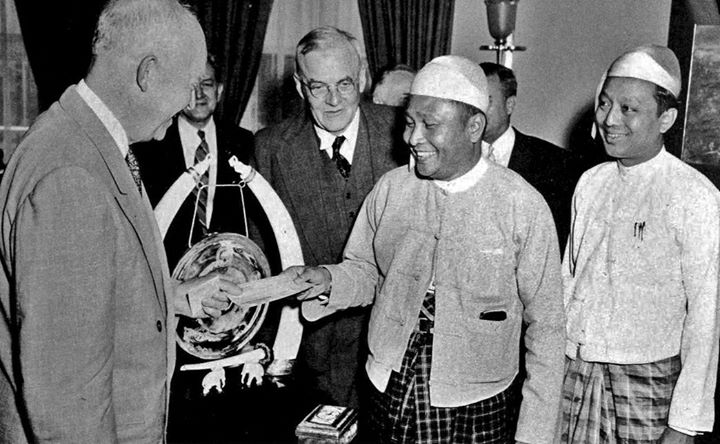 U Nu and U Thant with President Eisenhower at the White House.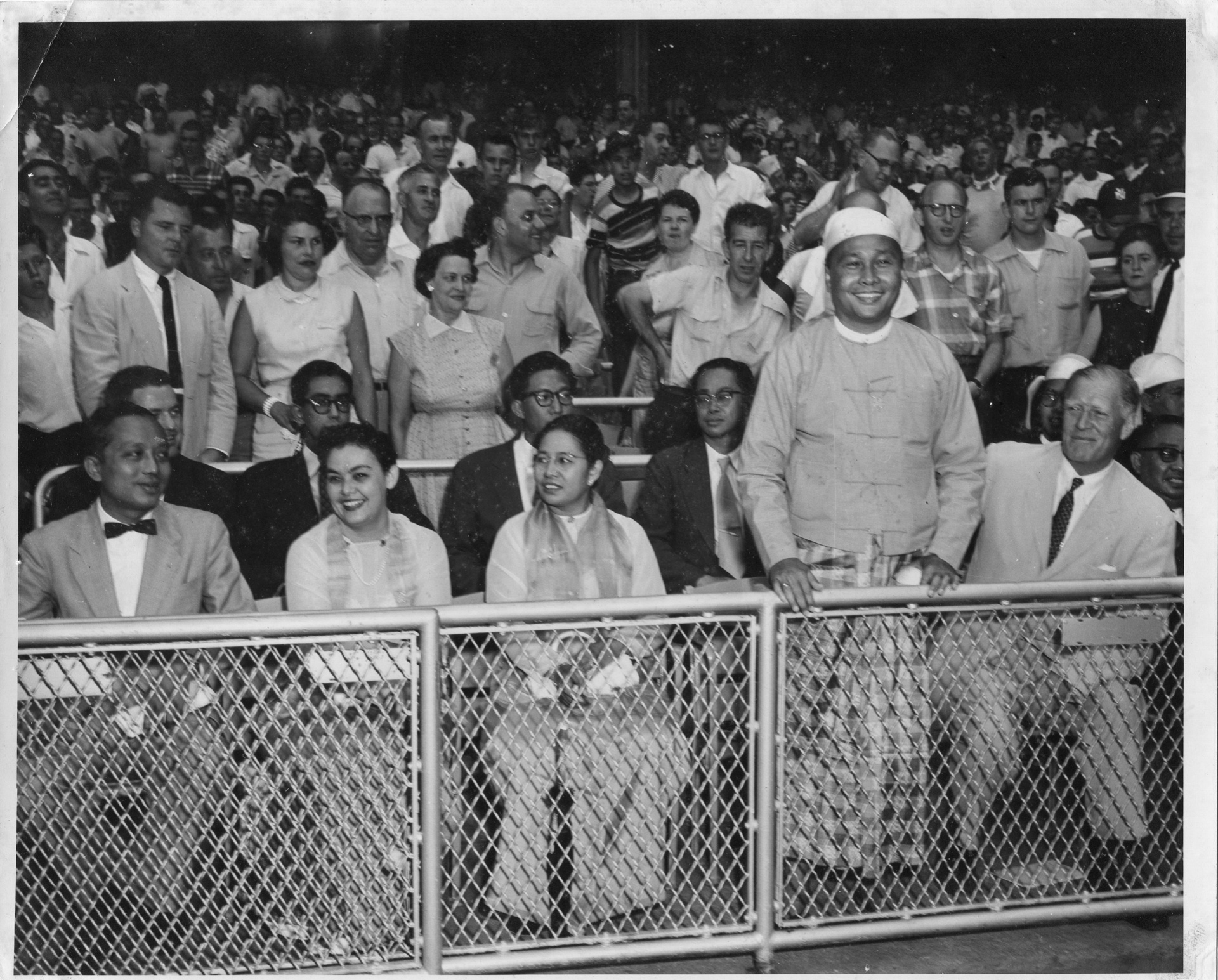 U Nu and U Thant with Daw Mya Yi and Mrs Eileen Barrington at a Yankees baseball game.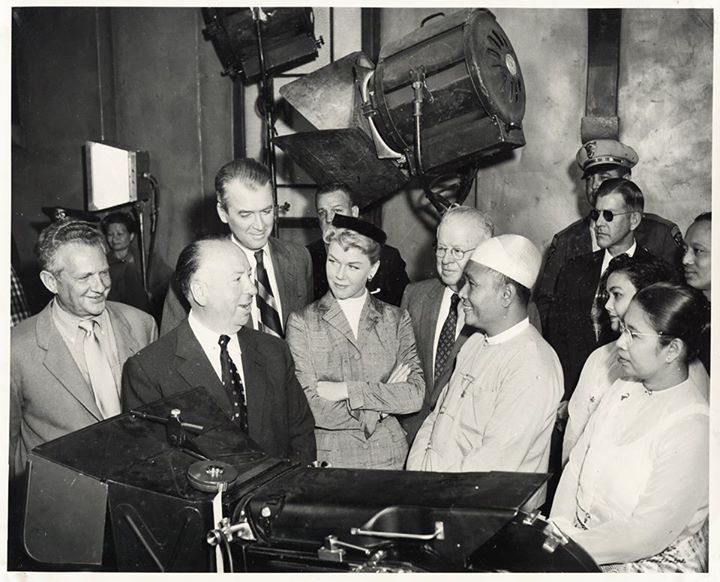 U Nu with Alfred Hitcock, Jimmy Stewart and Doris Day on the set of "The Man Who Knew Too Much".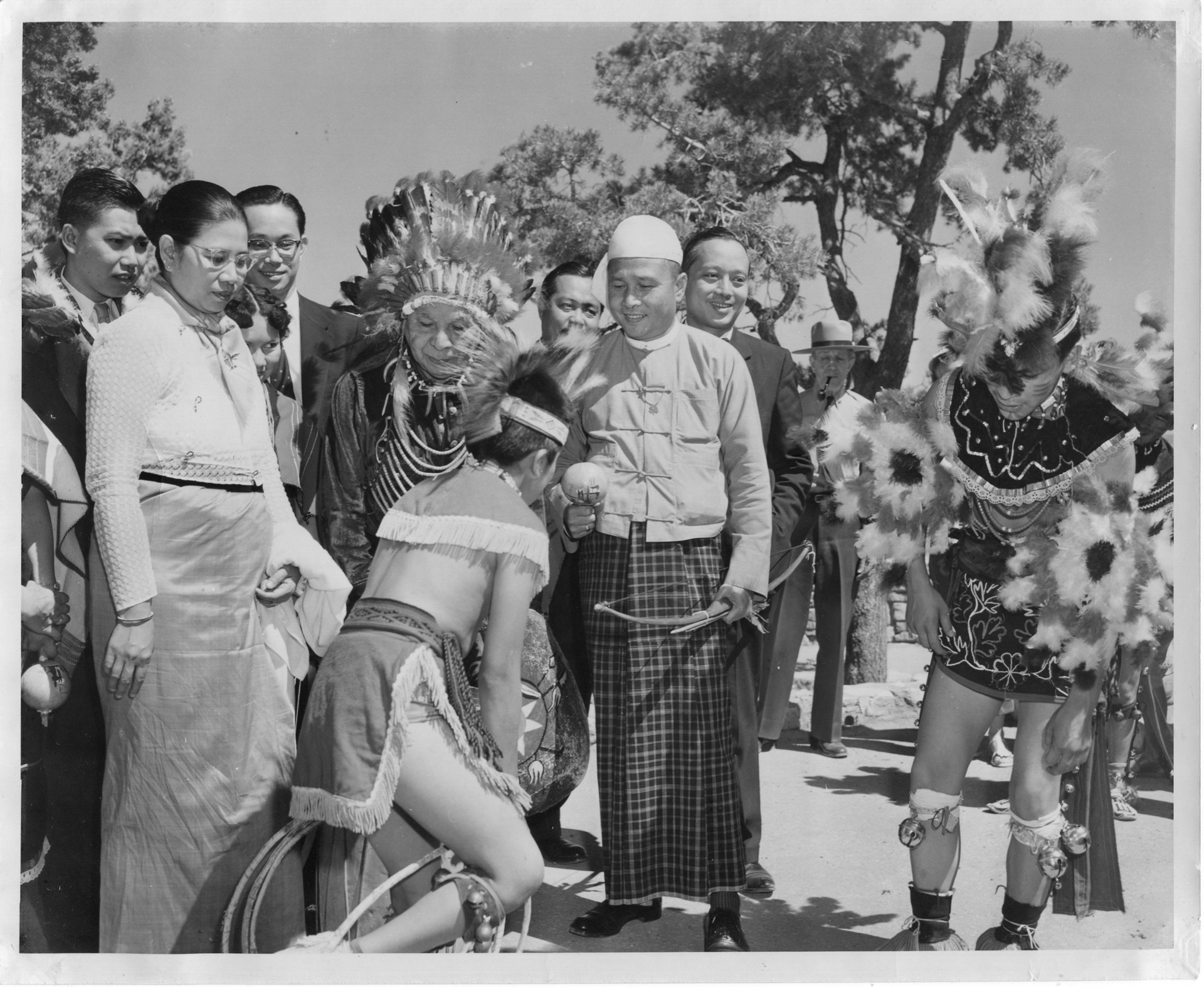 U Nu and party with Chief Po and other Hopi Native Americans at the Grand Canyon, Arizona.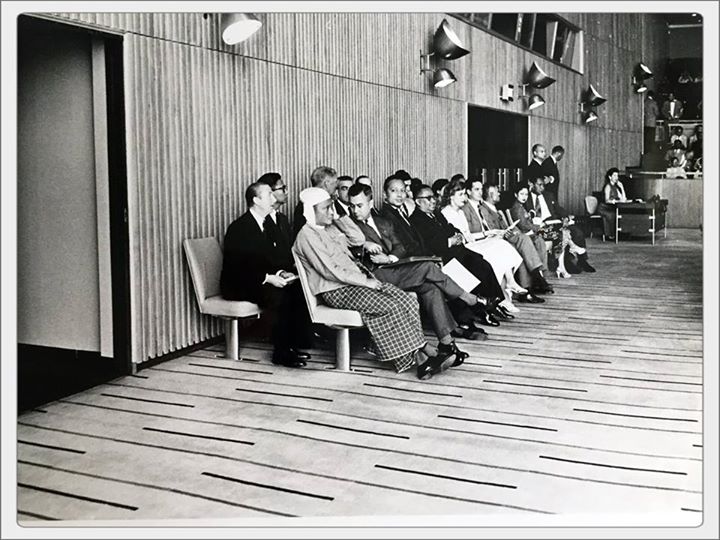 U Nu at the UN.
event_note History Timeline
24 June 1955 - 16 July 1955
Prime Minister U Nu's visit to the United States
room United States
people U Nu U Thant John Foster Dulles President Dwight Eisenhower
Prime Minister U Nu made an official visit to the United States. The trip lasted more than three weeks, from 24 June to 16 July 1955, and included Washington D.C., New York, Ann Arbor (Michigan University), Knoxville (Tennessee), San Francisco, Los Angeles, and the Grand Canyon (Arizona). He was accompanied by his wife, Daw Mya Yi, U Thant (then Secretary, Prime Minister's Office), and Colonel Lwin (later head of Military Intelligence) as well as Burma's Ambassador to the US and UN, James Barrington, ICS (later Burma's Foreign Secretary) and his wife Mrs Eileen Barrington.
The Burmese government was then trying to pursue a neutral foreign policy. Relations with the US had become strained as a result of American support for Kuomintang forces in the eastern Shan states and in 1953 Burma had terminated all US aid. The trip was in part to show that it was not siding with the Communist bloc, as some in the West were fearing.
It was an amazing three weeks, in which the party experienced America, now richer than any other country in the world, during the very height of the Cold War.
In Washington, U Nu and U Thant meet with President Dwight Eisenhower, presenting him with a check for $5,000 to help American children whose fathers died fighting the Japanese in Burma. In Hollywood, they met Alfred Hitchcock on the set of his movie "The Man Who Knew Too Much".
For more on the trip, the below is an extract from the River of Lost Footsteps by Thant Myint-U.
"The following summer U Nu and U Thant went on their first visit to America. It was the year Disneyland had opened its doors in Annaheim. Marlon Brando had won an Oscar for On the Waterfront, and I Love Lucy was enjoying its fifth fun-filled season. America was leading the world in practically everything, and the cold war was at its height. At his meeting with President Eisenhower Nu presented the erstwhile Allied commander a check for five thousand dollars for the families of U.S. soldiers killed in Burma during the Second World War. "Burma and America are in the same boat – we fight the same evils," he said adroitly, and reminded his audiences in Washington of what he has said in Peking to Chairman Mao, that the Americans were a "brave and generous people." At the National Press Club, U Nu pressed forward his vision of friendly neutrality, quoting George Washington's Farewell Address on the need to steer clear of entangling foreign alliances, while also underlining Burma's and America's mutual commitment to a democratic way of life.
It was then on to the U.S. Naval Academy at Annapolis, Philadelphia and Independence Hall, and finally the far West. In Pasadena, California, he was treated to a performance of his own play, The People Win Through. Both he and my grandfather were more than impressed with what they saw of the new superpower. At a Ford factory they watched in wonder as a car was assembled for them in less than a minute, and Knoxville, Tennessee, they listened awestruck as a waiter at a small hotel told them that he owned two cars, one for himself and one for his wife, and that his salary was more than that of the Burmese prime minister! Perhaps what impressed U Nu the most was what he saw of American charity. At San Francisco's Mark Hopkins Hotel the hotel barber told him that he had raised and donated sixty-five thousand dollars for his church. U Nu was so moved he gave a hundred dollars of his own money to the same church."
The first image is of U Nu and party meeting Burmese students at Michigan University. The state scholars then at Michigan included engineering student Tyn Myint-U, future son-in-law of U Thant and father of Thant Myint-U, who had transferred there in 1953 from Rangoon University (second row sitting, second from left).
Photo credit: U Kyan Tyne Aung
Explore more in The 1950s at Home and Abroad