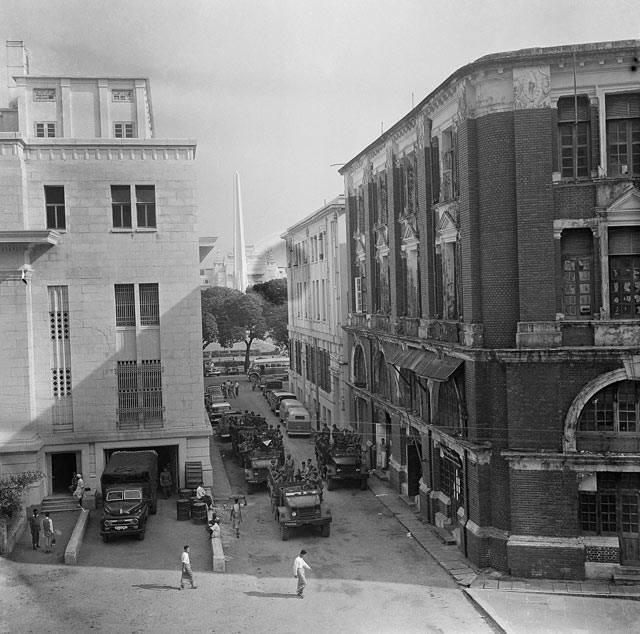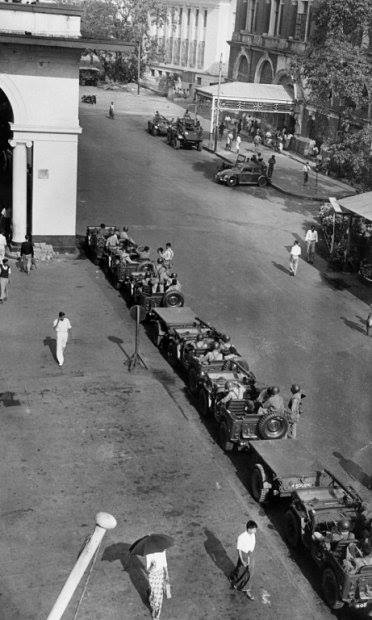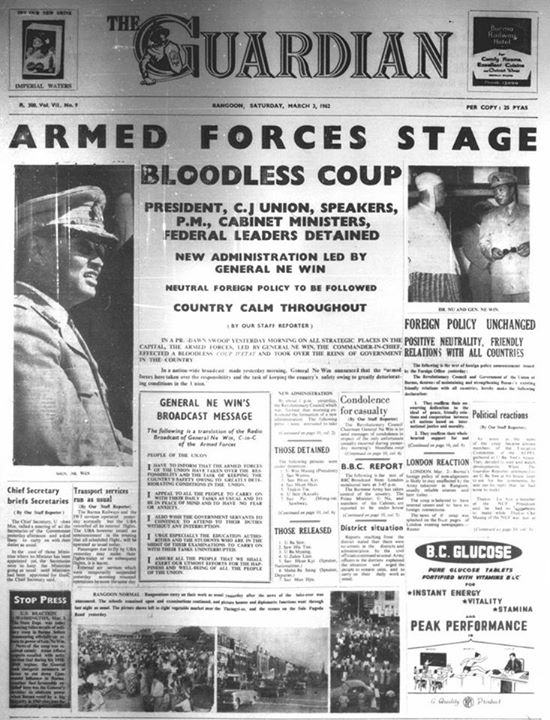 Front page of The Guardian, published on 3 March 1962
event_note History Timeline
2 March 1962
The Day Democracy Died in Burma
room Myanmar
people U Nu President Mahn Win Maung General Ne Win President Sao Shwe Theik Sao Myee Myee
On 2 March 1962 beginning at 2 am units of the Burma Army seized control of the Secretariat, the Windermere Estate, the guest house at Halpin Road, and other important government sites. President Mahn Win Maung, Prime Minister U Nu, all members of the cabinet and many other senior political figures including leading Shan saophas were arrested over the course of the day. Sao Myee Myee, the 17-year-old son of the first President Sao Shwe Thaik was killed before dawn during the takeover of his father's home on Kokine Road.
At 8:25 am, over the Burma Broadcasting Service, armed forces chief General Ne Win announced that the army had taken over government "in order to put a stop to the extremely grave situation that has befallen the Union". That same morning, at the War Office, he established the new Revolutionary Council with himself as chairman.
Burma was then one of the better-off countries in the region, with a per capita income three times greater than Indonesia, twice that of Thailand and nearly equal to South Korea. Over the coming decades, the Burmese people would receive little in return for having to surrender their basic freedoms. However, this was a time when much of Asia was under dictatorships of one kind or another: millions had died in China during the Great Leap Forward, more would perish during the Cultural Revolution to come; Vietnam and Laos were at war; the Indonesian army would seize power far more violently three years later; Thailand and South Korea were already under military rule. Burma was already suffering from multiple armed rebellions, beginning with the communist uprising and the Mujahideen and Karen insurgencies in 1948-49; several outside powers had fueled the civil war through the 1950s and 1960s.
While autocracy and armed conflict were not unusual in 1960s Asia, the isolationist policies of the Revolutionary Council were unique outside the communist bloc. These policies ruined any prospects for economic development, but even worse were policies that crippled an educational system once a second to none in the region, the consequences of which are still evident today.
The first photograph shows army units on Shafraz Road (now Bank Street) two days after the army had taken control and commandeered the New Law Courts (then housing the Chamber of Nationalities, the upper house of parliament). The redbrick building on the right is the Balthazar building (formerly the offices of Siemens company).
Explore more in Contemporary Myanmar and the World (1960s to present day)