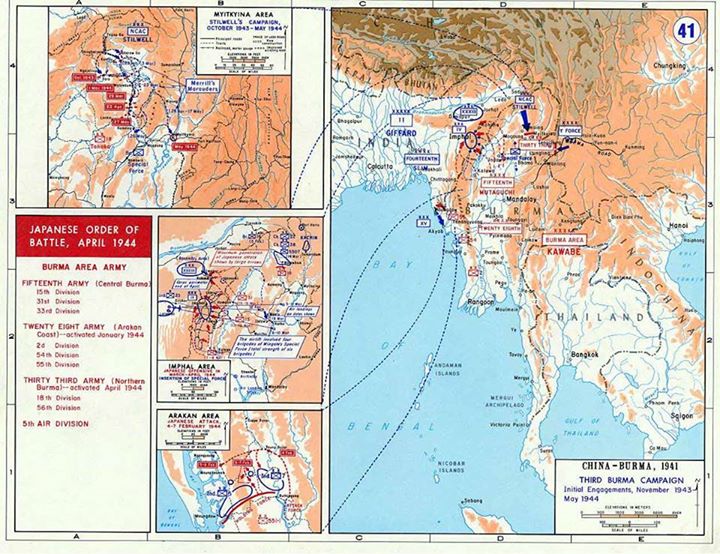 event_note History Timeline
June 1944 - 18 July 1944
Battles of Imphal and Kohima
room India
people William Slim Mutaguchi Renya
The epic battles of Imphal and Kohima started on 4 April 1944 and ended with the Allies' victory on 22 June 1944. They are considered by many to be the Asian equivalent of Stalingrad - the pivotal battles that turned the tide of World War Two.
Allied forces defeated the Japanese Imperial Army at the epic battles of Imphal and Kohima along the India-Burma border. The battles of Imphal and Kohima are amongst the most important ever in global history. They were Japan's greatest defeat in WW2. Like the Battle of Stalingrad, they marked the turning of the tide. If Japan had won and been able to push onwards from Imphal to Bengal, the histories of India and Burma and perhaps the world would have changed decisively. Instead, Allied victory secured the reopening of the road to China and made possible the reconquest of Burma the Japanese Empire was forced to retreat, across the Chindwin, then the Irrawaddy, with the Allies capturing Meiktila and Mandalay a year later and Rangoon in May 1945. Over 70,000 men - Japanese, Indian, British, and Burmese - were killed or wounded during the more than 3 month long battles. There seems very little awareness of the anniversary of those battles in Myanmar today. The epitaph at the cemetery in Kohima is world famous:
"When you go home
Tell them of us and say
For your tomorrow
We gave our today"
The second photograph shows the two principal protagonists of the battles: Lt General Mutaguchi Renya (牟田口 廉也) of the Japanese 15th Army and Lt General Sir William Slim of the British 14th Army.
Explore more in World War Two (1942-1945)