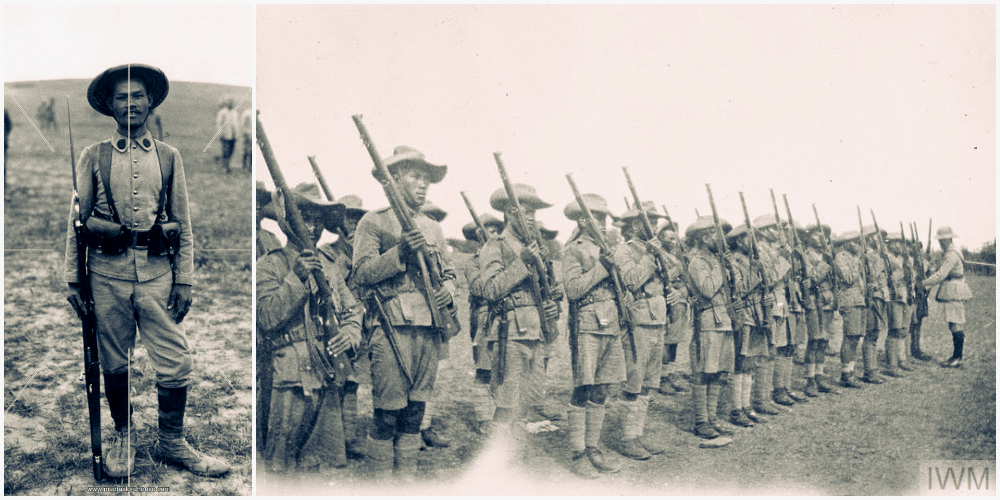 event_note History Timeline
1917 - 11 November 1918
Burmese who fought in World War One
The role of Burmese people in the First World War is almost entirely forgotten.
Thousands of Burmese volunteered to serve in Mesopotamia as drivers, sappers, and part of the labour corps. Chin volunteers served as part of the labour corps on the Western Front (in France).
The 70th Burma Rifles and the 85th Burman Rifles were raised in 1917-1918 and saw action against the Ottoman Empire in both Mesopotamia and Palestine. These regiments included men from various ethnic backgrounds, including Chins, Kachins, Burmans and Karens.
Turkish prisoners of war were transported to Rangoon, Thayetmyo, Shwebo, Meiktila. Lady Charlotte Isabel Wheeler-Cuffe used Turkish prisoners to build the Maymyo Botanical Garden in 1918. German prisoners of war were used to extend the railway line in the southern Shan states.
Some Kachin soldiers stationed in Palestine, who had never been far from the Kachin hills, had difficultly coping with the new environment. After months in the desert, several committed suicide.
(Photo shows the men of "A" Company, 2nd Battalion, 70th Burma Rifles somewhere in Mesopotamia).
Explore more in British Burma (1826-1942)