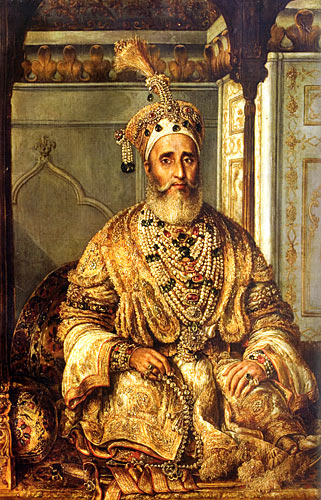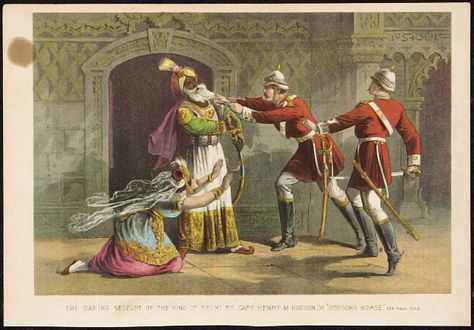 The emperor's seizure by the British in 1857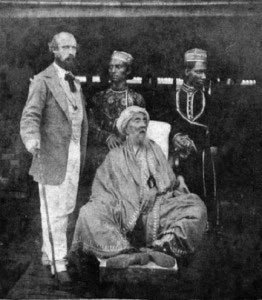 The emperor in Rangoon shortly before his death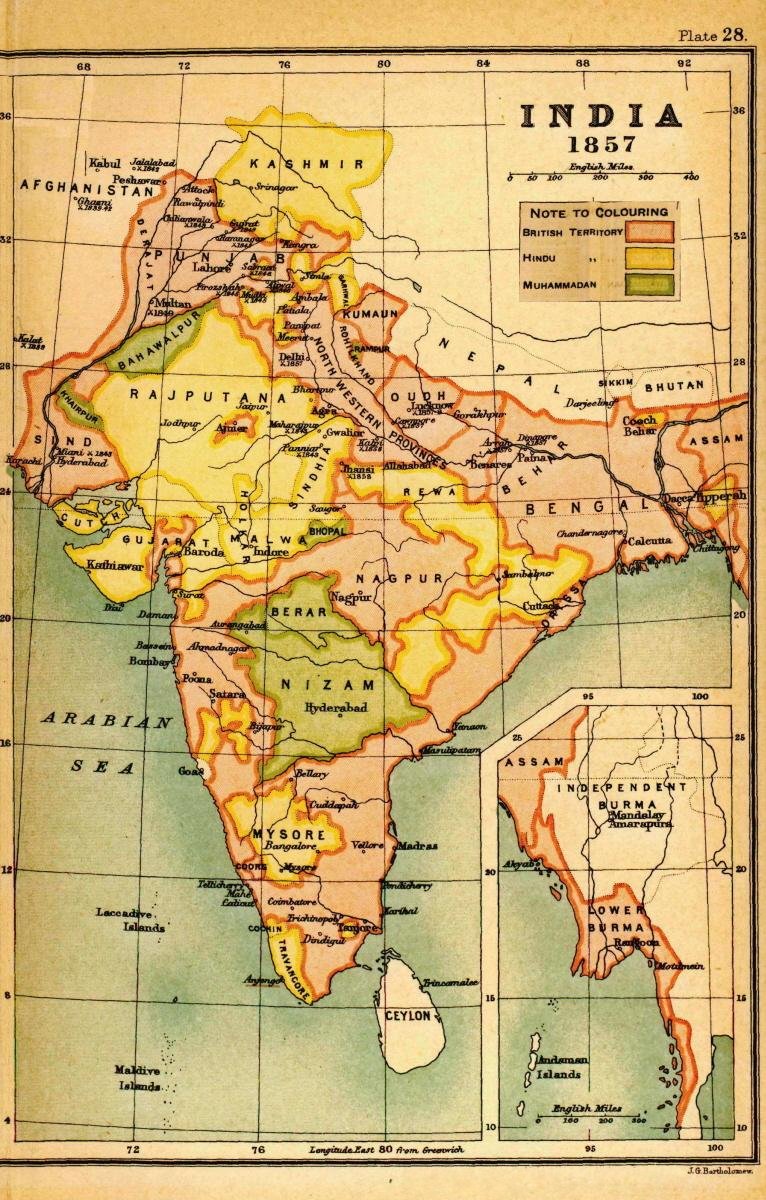 Map of India in 1857
event_note History Timeline
7 November 1862
Descendant of Genghis Khan secretly buried in Rangoon
room India
On 7 November 1862, the last Emperor of India, the last of the Great Mughals, Bahadur Shah Zafar, direct descendent of Timurlane and heir to Genghis Khan, died. Aged 87, heart-broken, and a British prisoner in Rangoon, he was buried at an unmarked grave just south of the Shwedagon Pagoda.
The Mughal empire was one of the greatest the world had ever known. At it's peak around 1700 the empire stretched from what is today Uzbekistan through Afghanistan and included nearly all of present-day Pakistan, India, and Bangladesh. The empire was founded in Uzbekistan in the early 1500s by Babur who was a direct-descendent of the great Mongol-Turkish nomadic conqueror Timur. In turn, Timur claimed descent from Genghis Khan whose Mongol empire once extended from Korea westward all the way to the borders of Germany and Egypt.
The Mughals presided over a period of religious tolerance, scientific progress, prosperity, and cultural innovation. People of all faiths were promoted to top jobs and the Emperor Akbar even attempted to start a new religion that brought together Hindu, Muslim, Buddhist, and Christian ideas.
By the early 1800s, however, the Mughal empire had been reduced to just Delhi and its immediate neighbourhood. Most of India by then was under the control of the British East India Company. Bahadur Shah Zafar was born in 1775 and was the 19th emperor from Babur. He was an accomplished Urdu poet.
During the Indian Mutiny of 1857, he was 82 years old, which shook the foundations of British rule, he was 82 years old. Though he played no real role in the uprising, he was placed on trial and exiled to Rangoon, together with many others of the imperial family, including his son Prince Mirza Jawan Bakht, and dozens of retainers and attendants.
In Rangoon, the emperor lived in a little house near the Shwedagon pagoda. Just before his death in 1862 he wrote an Urdu couplet: "How unlucky is Zafar! For burial, even two yards of land were not to be had in the land of his beloved."
After his death, his family was forced to live on a small government pension. Prince Jawan Bakht was banished to Moulmein. When the Allies retook Moulmein in 1945, a very old Mughal prince, one of Jawan Bahkt's sons, came down from a hill-top house to collect his pension of 12 and a half annas (less than a kyat). Two other grandsons, Prince Jamshed Bakht and Sikander Bahkt were born and grew up in Rangoon. Jamshed Bakht died in Rangoon but one of his sons returned to India, where he struggled to make ends meet on a government pension; the remnants of his family now live in a slum in Calcutta and are still disputing how the meagre monthly payment of 400 rupees awarded to them by the Indian government should be divided.
One of the last emperor's granddaughters, Princess Ranauq Zamani Begum married a Panthay Prince. Others from the original entourage accompanying the emperor settled around the Surati Bazaar in Rangoon (Theingyi-zay), where their descendants remain today.
The British wanted him forgotten but today he is perhaps internationally better known than at any time since his exile. In 1991, as the Burmese and Indian governments built a grand memorial near where he lived, workers discovered his hidden grave (hidden by the British). Since then, his tomb has been visited by Presidents and Prime Ministers alike.
Explore more in British Burma (1826-1942)