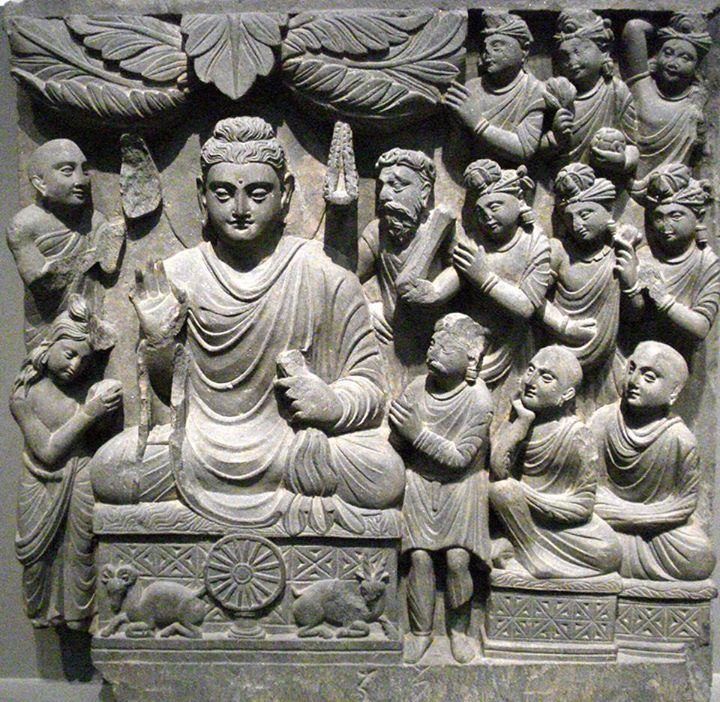 Late 2nd Century - Early 3rd Century
Full Moon of Waso
room India
Waso is the fourth month of the traditional Burmese lunar calendar (coinciding roughly with July). It signals the beginning of Vassa or the Buddhist Lent, during which monks retreat to their monasteries and certain ceremonies - like weddings - cannot be performed. This image shows one of the very first depictions of the Buddha's First Sermon at the Deer Park in Sarnath given on the day of the full moon.
This carving comes from the Indo-Greek kingdom of Gandhara (today northern Pakistan and Afghanistan) c. 200 BC, and is on display at the Smithsonian Museum in Washington DC. Gandhara was located just east of the empire of Alexander the Great and its Buddhist art was significantly influenced by Greek artistic traditions, borrowing aesthetics from sculptures of Greek gods.
Burmese word for "university" (tekkatho) is derived from taxila (takkasila in Pali), the Gandhara city and home of its great university. See also The Story of Thadingyut.
Explore more in Prehistory and Ancient History