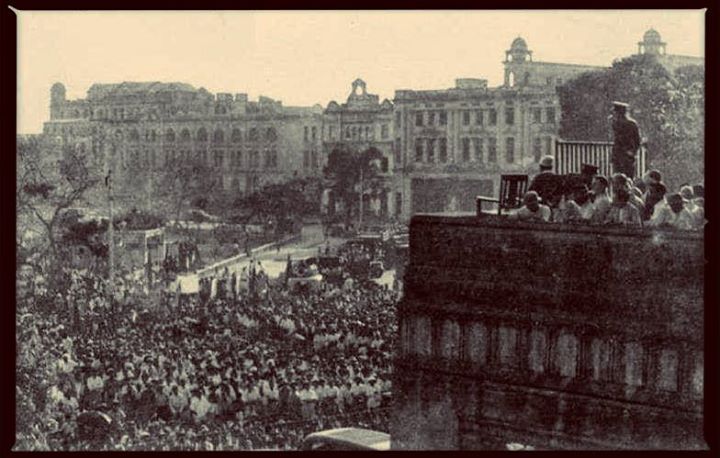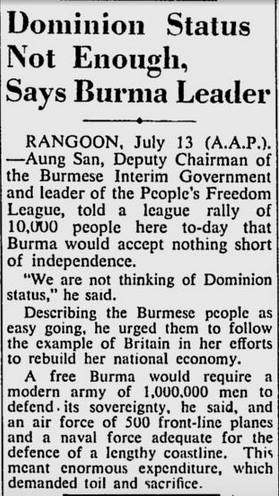 event_note History Timeline
13 July 1947
General Aung San's Last Speech
people General Aung San
On 13 July 1947, U Aung San gave his last speech from the balcony of City Hall to supporters in Fytche Square (now Maha Bandula Park). He was then the de facto head of an Interim government (formally the Counsellor for Defense and External Affairs and deputy chairman of the Executive Council) under the Governor Sir Hubert Rance. This would be his last speech: U Aung San and nearly his entire Executive Council would be killed less than a week later, depriving Burma of leadership at this most crucial moment.
As had been agreed earlier in the year between U Aung San and the British government under Prime Minster Clement Attlee, elections had been held in April 1947 to a Constituent Assembly that would decide the future of Burma. The Panglong Conference of February 1947 had given the formal assent of the "Frontier Areas" to unify with "Ministerial Burma" under specific terms. No final decision had yet been made as to whether or not Burma would opt for Dominion status within the Commonwealth (as India had done).
In his speech, U Aung San urged Burmese to be more disciplined in the face of challenges ahead. There is a modern-day myth that Burma at independence was all set for a bright future. Nothing could be further from the truth; in 1947, the country was in economic ruins, with nearly all its infrastructure destroyed in World War Two, already in the grip of multiple armed rebellions, including by communist militia and the pro-Pakistan Mujahideen in north Arakan (now Rakhine State).
Uncertainty was spreading once more, both in the wider world and the surrounding region. In China, the communists had just seized the northeast and were preparing for final victory against Chiang Kai-shek. In Europe, the the Cold War was looming, with the Soviets rejecting participation in the Marshall Plan. In India, the British had just agreed to partition and the creation of an independent Pakistan, uprooting millions of people. Indonesia was in the middle of a bloody fight for independence, Palestine was mired in rising violence, and Ho Chi Minh's Viet Minh were battling French colonialists in Vietnam.
Burma was in bad shape, but no more than the rest of Asia. Over the next 70 years, however, as much of Asia moved from strength to strength with many of its people enjoyed peace and ever greater prosperity, Burma would be left behind.
Explore more in Independence and Civil War (1945-1951)