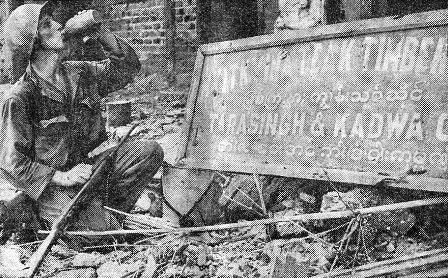 event_note History Timeline
3 August 1944
Historic Siege of Myitkyina
Beginning 17 May 1944, Chinese and American forces (including "Merrill's Marauders" ) supported by Kachin and other Allied troops laid siege to Japanese-held Myitkyina. It was a critical battle of World War Two, leading to the capture of the all-important Myitkyina airstrip. Myitkyina was captured after only 78 days of savage fighting against an entrenched Japanese garrison. Chinese forces included armies attacking from both India and Yunnan.
Altogether nearly 10,000 men were killed or wounded during the historic siege. The Japanese had put up a fierce defense against almost impossible odds, losing over 90% of their men. The Japanese commander, Maj-General Genzo Muzikami committed suicide after finally evacuating the town in early August 1944. The capture of Myitkyina (and Mogaung around the same time) allowed the Allies to open the new Ledo Road linking India and China. More importantly, control of Myitkyina airstrip gave the Allies air superiority across the India-China theatre.

The photograph is of Sgt. John Busaites, exactly 69 years ago, next to the ruins of the Myitkyina Teak Timber Co. in the seventh block of town. A former basketball player, he was often called on by the Chinese "X Force" to throw grenades.
Explore more in World War Two (1942-1945)