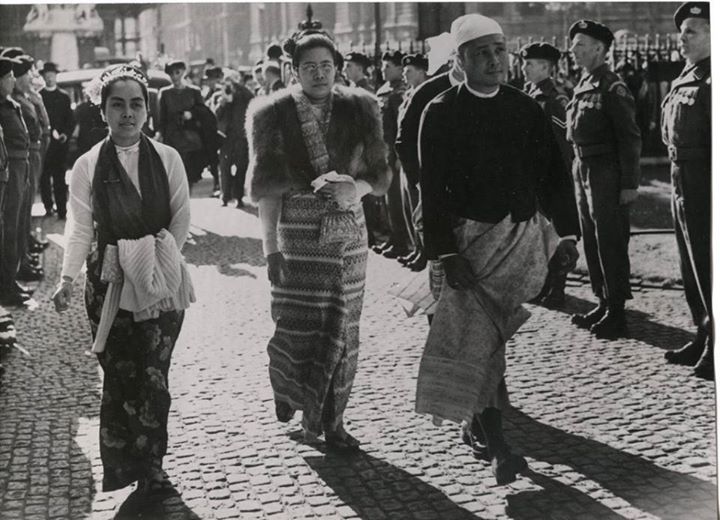 event_note History Timeline
May 1950
Prime Minister U Nu, Daw Mya Yee and Daw Khin Kyi in England 1950
room United Kingdom
people U Nu Daw Mya Yee Daw Khin Kyi Sir Percival Griffiths
On U Nu's visit to England in 1950, he tried hard to paint as rosy a picture as possible of the situation in Burma. He said peace was likely "within a year" and encouraged British aid and investment. An article published in the UK's Spectator magazine on 26 May 1950, however, painted challenged his optimism: 
"For some generations it has been customary to speak of the ingrained pessimism of the East, and to contrast it with the active hopefulness of the Western peoples. Of late, however, the roles have been reversed. While the West seems to have lost heart, those Eastern nations which have recently become self-governing tend to indulge in uncritical optimism. Thakin Nu, the Burmese Prime Minister, seems to have surrendered completely to this mood during his recent visit to London, when he painted a picture of the present conditions and future prospects of Burma which impartial observers are quite unable to confirm. The Prime Minister spoke of the imminent end of the rebellion, declared that the Government had the measure of the Communists, referred to the plan for economic development and expressed a warm desire to co-operate with British investors and technicians.
On no one of these four points could his statement be accepted by anyone who had recently visited Burma."
Titled "Realities in Burma" and written by Sir Percival Griffiths, a former Indian Civil Servant, the article painted a very different (and more realistic) picture than the one presented by U Nu:
"Throughout most of Burma, except in the hill areas to the north, the machinery of law and order has been out of action for a long time. Rebel groups have competed with one another in raiding and looting, and even on the admission of the Burma Finance Minister damage done to Government property alone, up to September, 1949, amounted to £ 15,000,000 sterling - a figure which must have been greatly exceeded since then. Still more damage, the Finance Minister tells us, has been done to private property, and "in a number of districts, there was hardly any semblance of security. The position is little better now than it was then, and even if the insurgents were rounded up it would be long before the administrative machinery could operate normally."
The photograph, taken in England in May 1950, shows Prime Minister U Nu, accompanied by his wife Daw Mya Yee and General Aung San's widow Daw Khin Kyi (far left).
Explore more in The 1950s at Home and Abroad