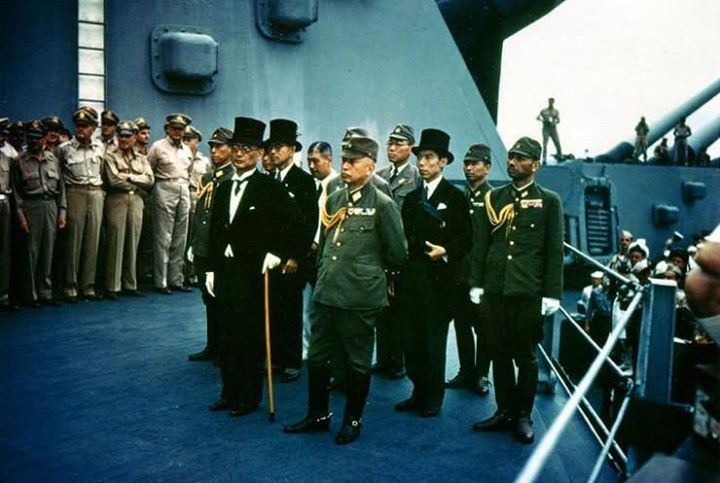 General Douglas MacArthur, the Allied powers representative
event_note History Timeline
2 September 1945
Surrender of Japan
people Shigemitsu Mamoru Douglas MacArthur Umezu Yoshijiro
On 2 September 1945, the Empire of Japan formally surrendered to the Allied powers on board the USS Missouri. Over 100 Allied warships and submarines were present that day in Tokyo Bay. The Allied powers were represented by General Douglas MacArthur, Supreme Allied Commander. This photograph, from the Army Signal Corps Collection in the US National Archives shows the Japanese side, represented by Foreign Minister Shigemitsu Mamoru (front row, top hat) as civilian plenipotentiary and General Yoshijiro Umezu (standing next to him on the right), Chief of the Imperial Japanese Army General Staff.
Both men were later tried by the International Military Tribunal for the Far East and found guilty of war crimes. General Umezu received a life sentence and died in prison four years after this photograph was taken, while Shigemitsu received a far lighter sentence of seven years due to his documented opposition to Japan's involvement in World War Two and the mistreatment of Allied POWs (after his release he later served again as Japan's Foreign Minister).
In Burma three days earlier, on 30 August, the local surrender was negotiated with General Heitarō Kimura, Japan's Commander of the Burma Area Army. The Japanese were then headquartered in Moulmein with 70,000 troops, having evacuated Rangoon in April. General Kimura was also tried by the same tribunal and received a sentence of death by hanging. He was executed at Sugamo Prison in Tokyo in 1948.
Explore more in World War Two (1942-1945)