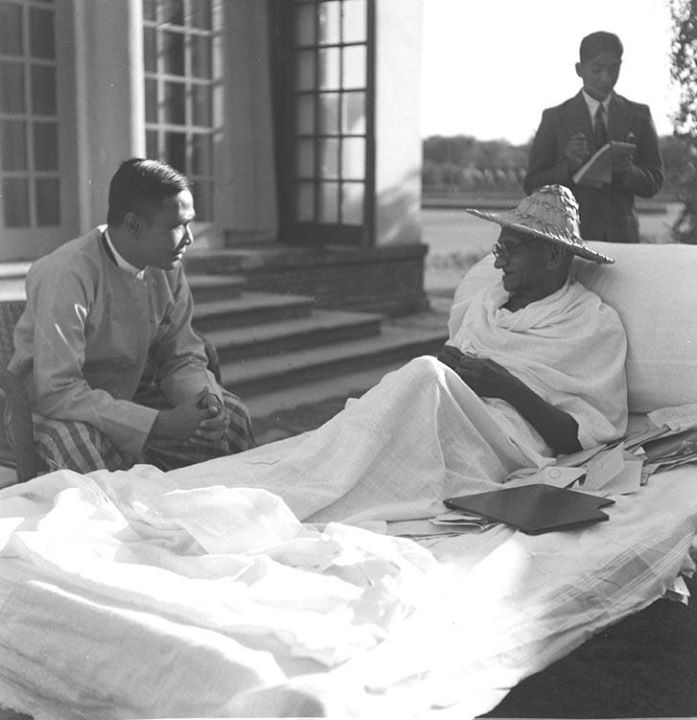 event_note History Timeline
4 December 1947
U Nu with Gandhi in Delhi 1947
room India
people U Nu Mahatma Gandhi
The struggle against British colonialism is a shared history of Burma and India. Mahatma Gandhi visited Rangoon three times: in 1902, 1915, and 1929. He had a big impact on Myanmar politics and Myanmar had an important impact on him. Gandhi wrote about how these trips influenced his thinking, on colonialism, and on the role of women. His close friend and patron since student days in London was Dr. Mehta who lived on Mughal Street and later Shwedagon Pagoda Road.
Burma's own independence movement was deeply influenced by India. The anti-colonial "boycott" and "general strike" were Indian imports. The pace of Burmese constitutional change closely followed India's in 1922 and 1935. And the underlying reason the Labour government of British Prime Minister Clement Attlee decided in 1946 to quit Burma was that the country, with India's coming independence, would no longer hold any real strategic importance - British calculations would otherwise have been very different.
Many Indian leaders have visited Burma over the past hundred years: Rabindranath Tagore, Pandit Nehru, Sardar Patel, Subhas Chandra Bose, Dr. Ambedkar, and many others. The last emperor of India, Bahadur Shah Zafar, was exiled to Rangoon and is buried near the Shwedagon.
This photograph was taken at Birla House, Delhi, on 4 December 1947, just under two months before Mahatma Gandhi was assassinated. It shows the last meeting between U Nu and Gandhi, with the latter wearing a hat that had just been given to him by soon-to-be Prime Minister U Nu (then Premier Thakin Nu).
Explore more in Independence and Civil War (1945-1951)