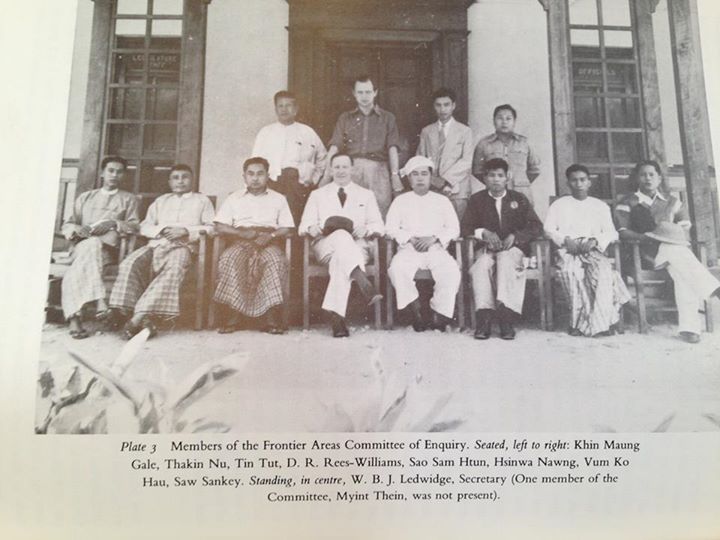 event_note History Timeline
August 1945 - March 1948
Warless Days of Myanmar
room Myanmar
people U Tin Tut W.B.J Ledwidge Dr Rees-Williams
From 23 December 1941 (when the Japanese began their invasion of Tenasserim and launched an aerial raid over Rangoon, announcing the arrival of World War Two in Burma) until today, Myanmar experienced a total of 31 months without war - from August 1945 when the Japanese surrendered to the Allies to March 1948 when the Communist insurrection began. It is impossible to understand future options in Myanmar without first appreciating the legacies of more than 70 years of armed fighting.
This photograph shows the members of the 1947 Frontier Areas Committee of Enquiry that attempted to find a peaceful solution to the integration of Burma's "Frontier Areas" and what was "Ministerial Burma". The Enquiry was chaired by the lawyer and politician Dr Rees-Williams (later the 1st Baron Ogmore and President of the London Welsh Association), seated centre. The secretary was W.B.J Ledwidge (standing behind) a young man from the Burma Office whose khaki shorts and pink socks infuriated the Governor; regardeless, he later served as British Ambassador to Finland and then, Israel, and received a knighthood. Seated third from the left is the Cambridge-educated constitutional and financial expert ICS U Tin Tut who was a key mover behind the process; he had been indispensable to General Aung San in London and later at Panglong.
There are many domestic reasons for the start of the civil war but it should not be forgotten that it was World War Two that created the battlefields, set communities against one another, and left behind a small country awash in weapons.
Explore more in Independence and Civil War (1945-1951)